Audrey's paintings are on display at:
Upcoming Shows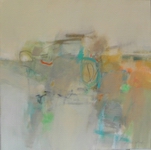 Foundry Gallery, 2118-8th Street, NW, Washington, DC.
August 2016 – Hot Hot: A juried show of Washington area artists
August 3 – 28, 2016
Opening reception: Saturday, August 6, 5 – 8:00 p.m.

Artist's Statement
I find inspiration in the ordinary: the side of an old building, a broken-up sidewalk, even in a demolition project. Large and small groupings of objects, along with the negative spaces surrounding them, stir my artistic imagination. With an open eye, the possibilities are endless.