Audrey's paintings are on display at:
Upcoming Shows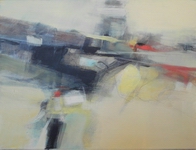 MFA Spring Member Show
MFA Circle Gallery, 18 State Circle, Annapolis
May 4 - May 26
Reception May 7, 3-5 pm
DRAWING FOR ART View the available works in our galleries during the exhibition period, then enjoy an exciting evening where every ticket holder goes home with a personally selected original work of art. Each $100 ticket is valid for one piece of artwork plus admission for two to the drawing. Audrey's painting Finish Line II will be in the show and available in the drawing.
Strathmore Mansion, 10701 Rockville Pike, North Bethesda, MD 20852
Exhibition: Wed, May 24–Tue, June 6
Drawing: Tue, June 6, 7pm

Artist's Statement
I find inspiration in the ordinary: the side of an old building, a broken-up sidewalk, even in a demolition project. Large and small groupings of objects, along with the negative spaces surrounding them, stir my artistic imagination. With an open eye, the possibilities are endless.